Grandma Shirley's Yurt Co.   
Formerly Surely Yurts
 – Taberg, NY
New State. New Shop. New Name. Still Beautiful Yurts.
 Welcome! 
We're surely glad you're taking time to consider our grass-roots yurt manufacturing company!  Our Yurts are made right here in beautiful Johnson, Vermont.  These modern American lattice yurts are produced in an exciting & unique time 2020 … can you imagine that?  With the perspective of over 2 millennia in yurt crafting we have an opportunity to marry wisdom gleaned from thousands of years in traditional design with 21st century materials and technology!
Take of your coat and hat.  Have a look around & enjoy the comfort and warmth of Grandma Shirley's Yurt.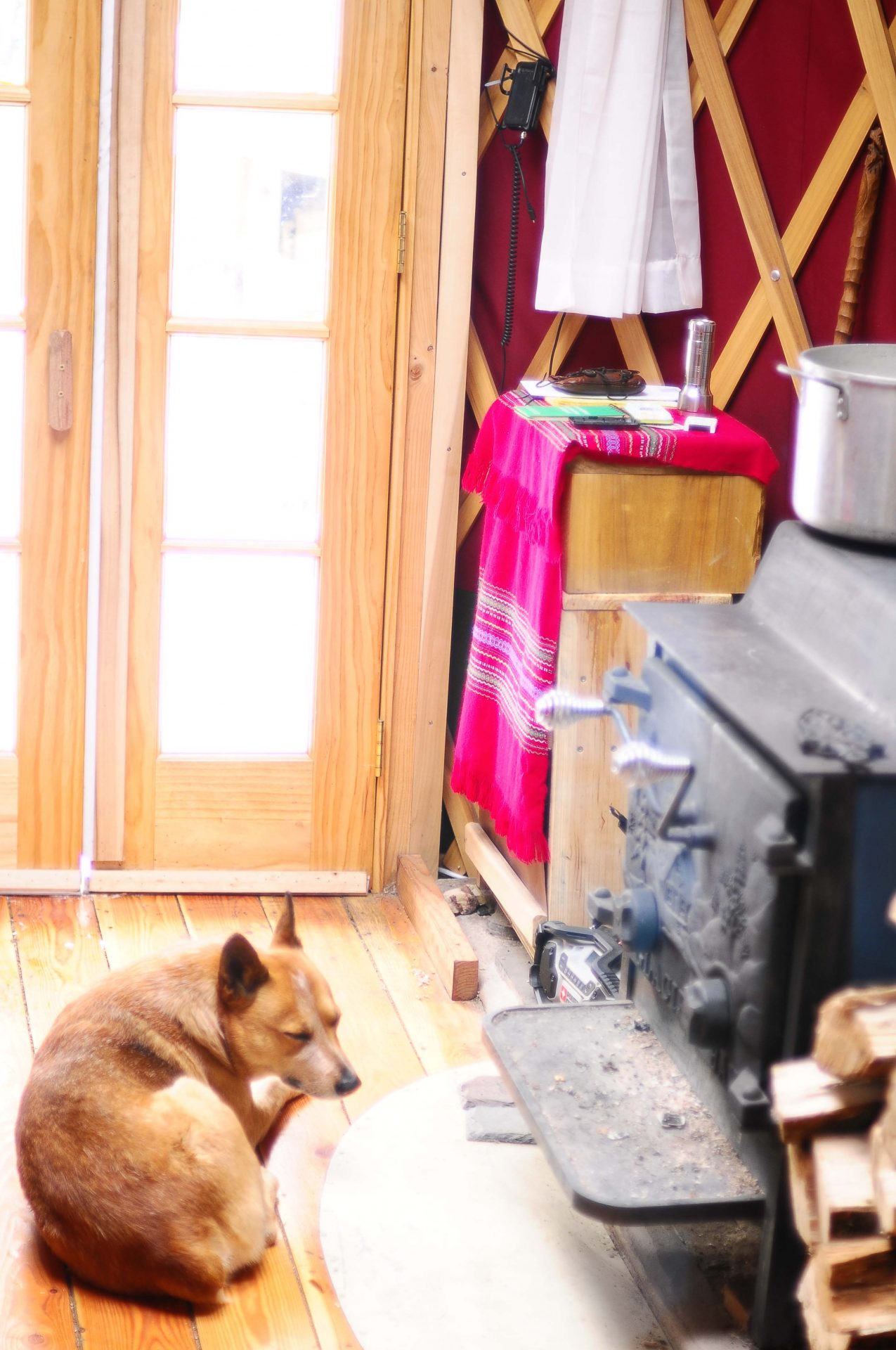 Quality is ensured by using high grade locally sourced materials and hand fabricating each part one at a time to create a whole Surely Yurt.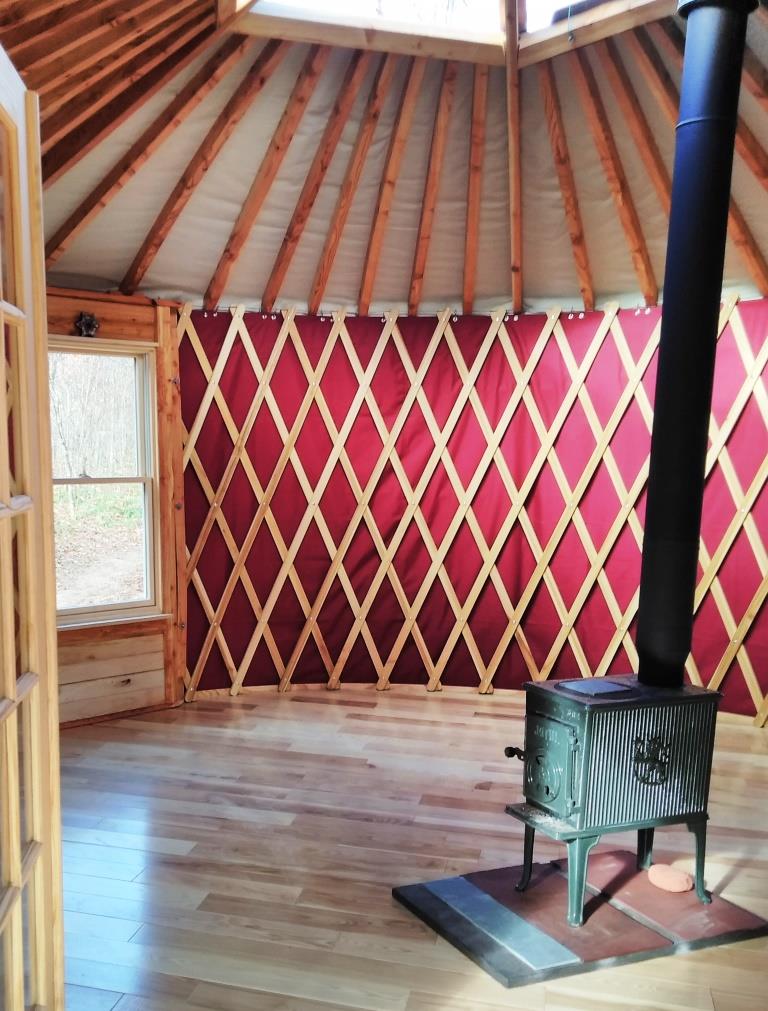 The Wall
The yurt wall is built using tulip poplar hardwood slats treated with raw linseed oil.  These slats are linked together using an aluminum rivet system, allowing the wall to fold for transportation and ensuring that your wall hardware won't loosen or rust.
Tulip Poplar: This clear hardwood is virtually free of knots, making for a beautiful, strong and long lasting hinged lattice wall.
Yurt Doors
A 32″ Door comes standard with all our yurts.  We can also incorporate custom frames to fit almost any door of your choosing.   Upgrade to a French door as shown below is available.
 Tension Cable
Each yurt has a 1/4″ stainless steel tension cable, which distributes the weight of the roof, the cable is crimped with aluminum fasteners so that you'll never have to worry about loosening or breakage.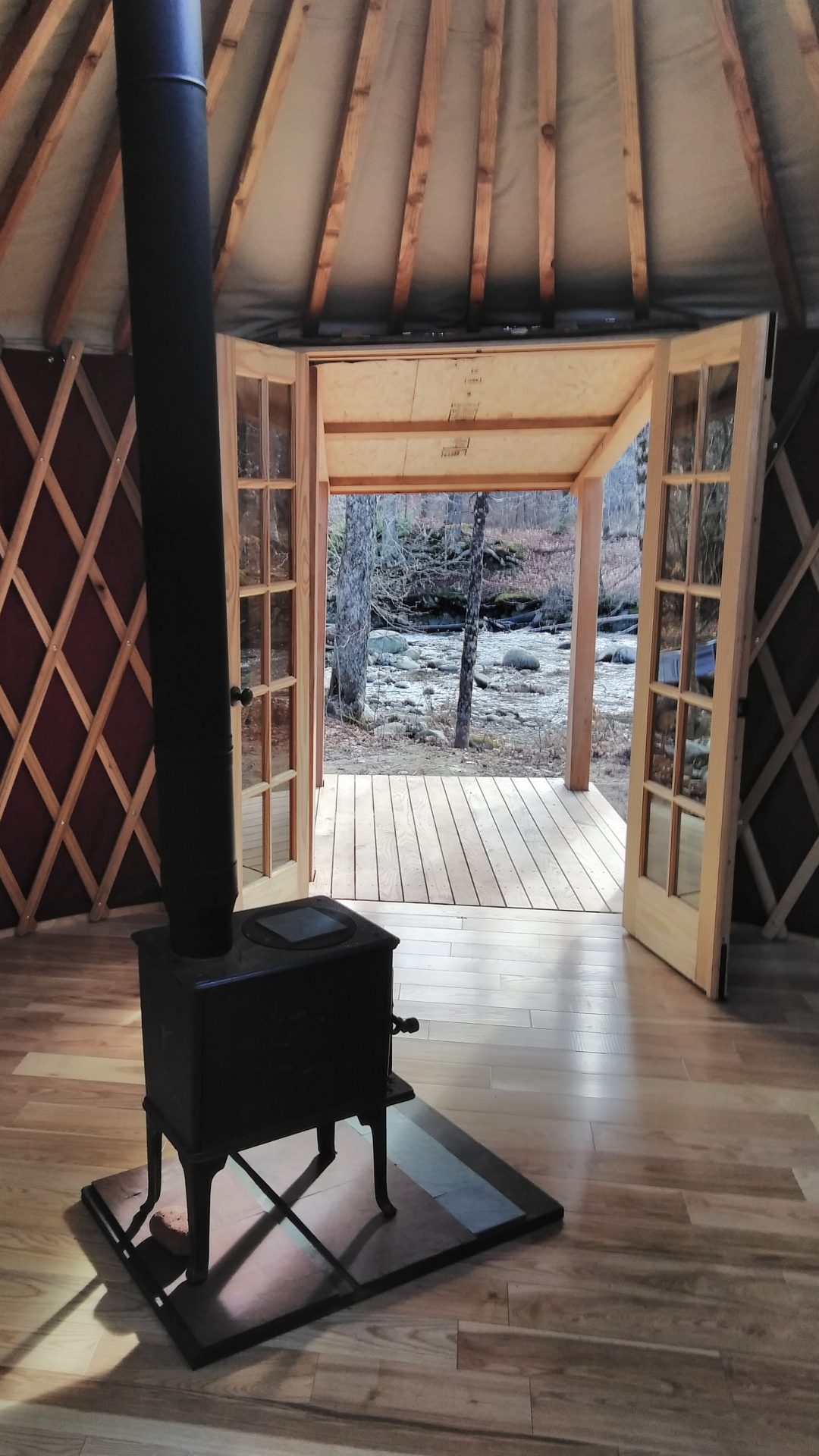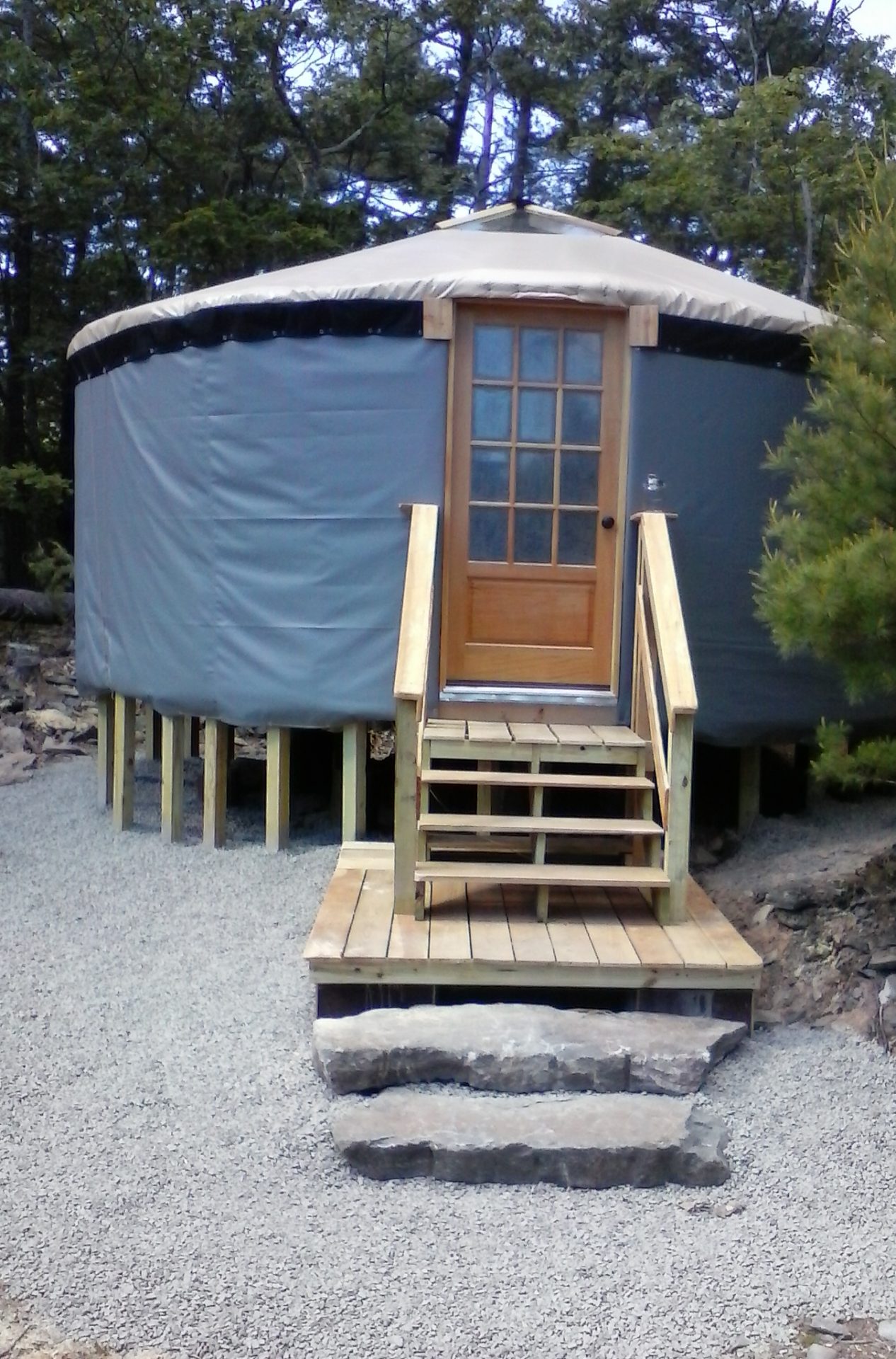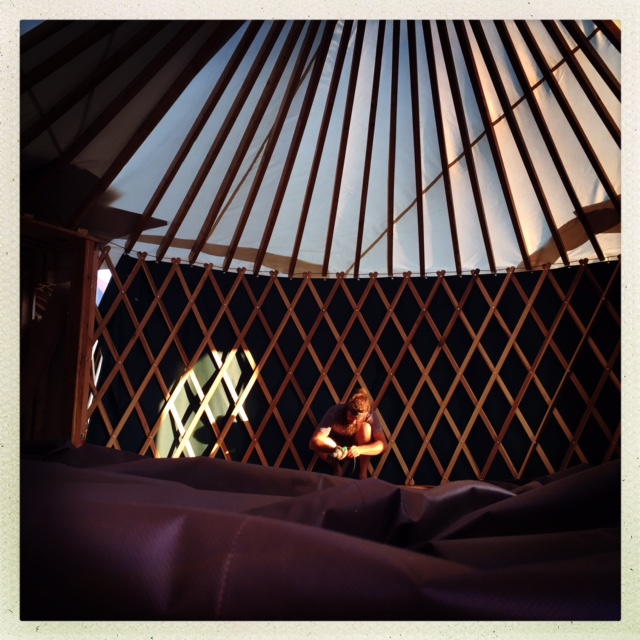 Rafters
Yurt roof rafters are constructed of larch, which we prefer because it is locally  sourced and rot-resistant.  We purchase large orders of rough-cut larch from a local Amish sawyer.  After drying, the rafters are fabricated at our off-grid workshop by planing, fitting, sanding and finally a generous application of raw linseed oil, ensuring the wood years of longevity. Other species of wood, including aromatics, are also available.
Larch: A conifer also known as tamarack is tough, durable and when finished, makes for beautiful exposed rafters.
The Roof Center Piece
Our yurt roof center piece consists of five triangular openings.  Any of the five openings can be filled with either a 6mm. twinwall lexan skylight for better insulation, or an 1/8″ clear lexan skylight, which is nearly invisible and great for star gazing!  One of the 5 openings is often fitted with a galvanized steel thimble for a woodstove pipe.
Larch: A conifer also known as tamarack is tough, durable and when finished, makes for beautiful exposed rafters.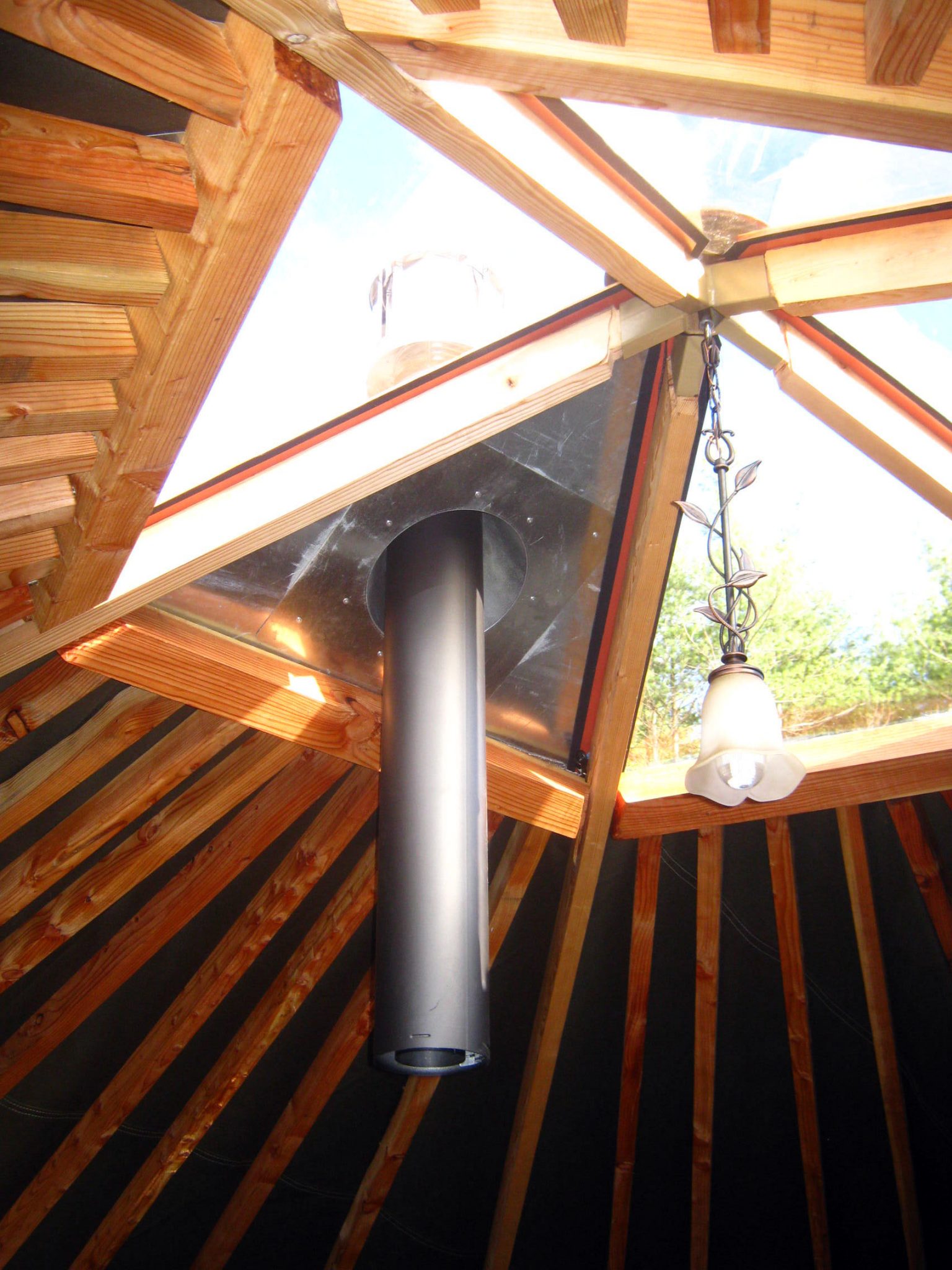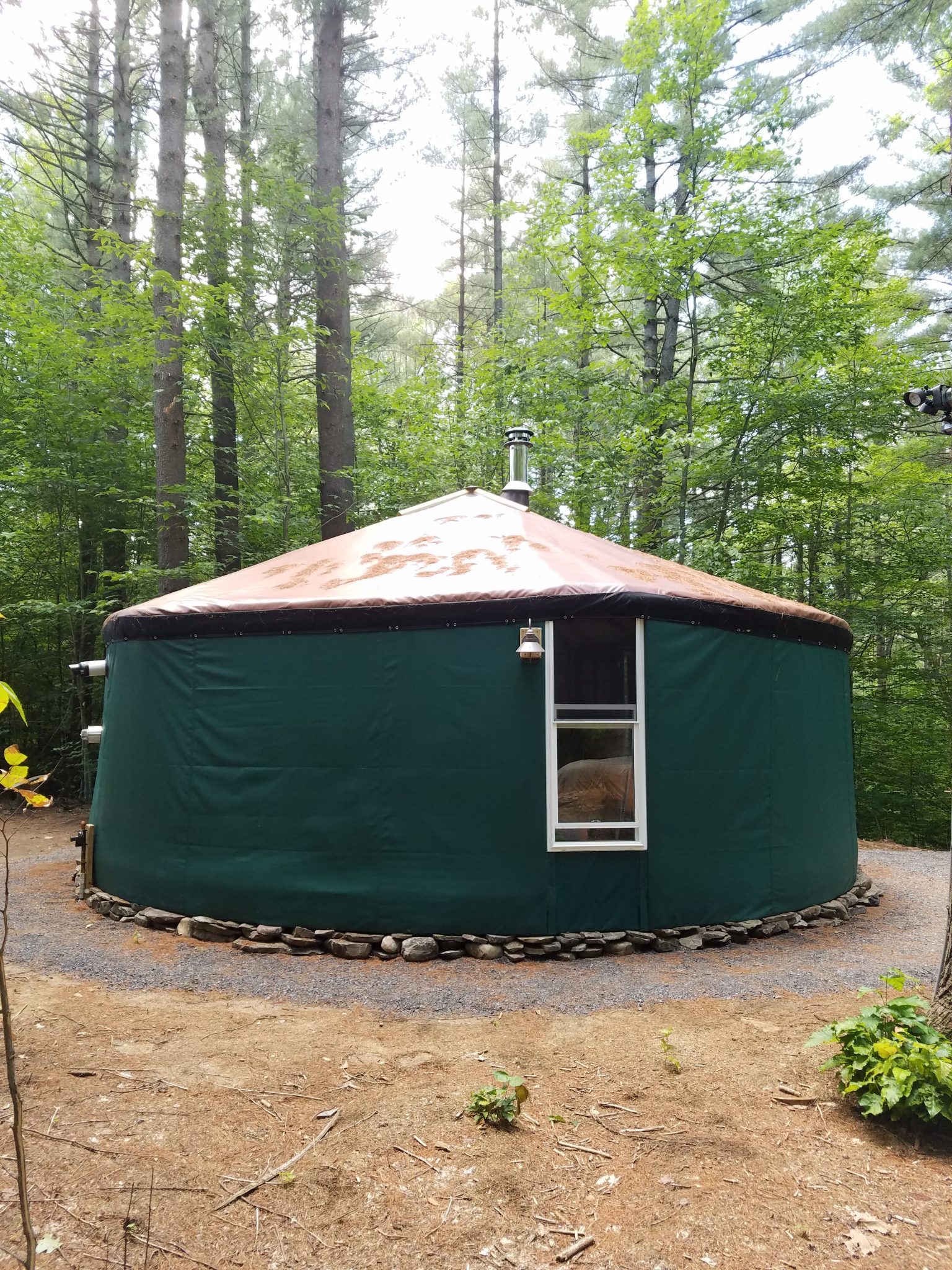 The Cover
Our standard yurt roof cover is an 18 oz. vinyl-coated polyester.  A myriad of colors are available for the roof and wall coverings (Click here for yurt color options).   We'll gladly fabricate a wall cover and or liners out of a material of your choosing (as long as it meets fire and water standards).  We have used a number of different fabrics and have a catalog and swatches for serious inquiries.
The flexible nature of a yurt allows for creativity
If you have ideas about construction, design, or materials, please don't hesitate to mention them.  We want to make your yurt as custom fit to you as possible.